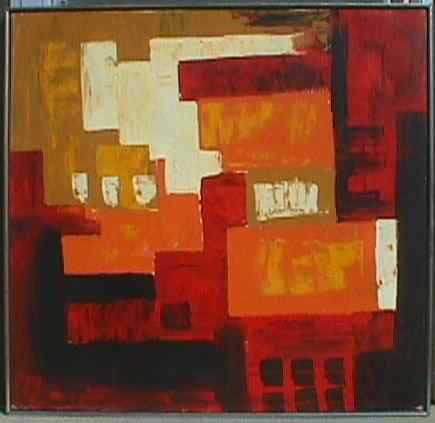 Size:
35 7/8 x 35 7/8 Painting
37" x 37" Frame
This painting is signed on the back I believe by a Swiss German artist by the name of Paul Klee.  It looks to me to be very much in his own style from 1925-8 which I'll show you below, and besides the painting did come from a real nice household estate sale which I handled personally in 1979-80, fifty-one or so years after it was painted, as owner of Miller's Auction Service in Caldwell , Idaho.  I have owned this painting now myself since around 1980.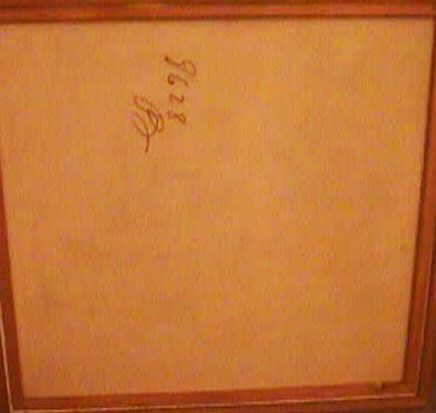 Not so elegant of a wood frame.
History: The Painting came from a family estate handle by a bank here in Nampa, Idaho, who in the past had called my auction business and told me that they had an estate that they just wanted to sell everything for one price and be done with it.   They told me that all the living family was out of state and in professional fields and couldn't be bothered with the loose ends of the estate. I purchased all the household furniture, lamps, carpets, bedroom sets, appliances, kitchen items, garage items, all the wall accessories and this oil painting which I was told at the time that it was purchased from some Swiss artist in Europe some time back.  
    Of the thing that the family didn't want to keep, many families would have cut off their right arm to own. That was one of my biggest winfalls I had in the four years of the auction business over  25 years ago.  My wife had left me at that time and took my two children with her back to Long Beach California over the fragility's of the auction business.  My new girlfriend at that time after my wife leaving me just had to have the French provincial furniture and lamps from the 30's or early 40's, mirrors and what ever else she manage to get her hands on for her new apartment.    Even then, I more than tripled  my money from the items that I had auctioned off.
I had the painting stored for many years now because I believed the artist to be a gifted one, and kept the painting.  I had   kept the painting wrapped in plastic until a couple of years ago. The canvas and paint are in very good condition as they were at the time of purchase.  By the way, after my girlfriend left me for another man who she eventually married,  I did get back with my wife after promising her I would quit the auction business when my lease was up and concentrate on our used appliance business.  What things a person has to put up with and do to be able to keep their family together. 
I could probably go by the house that I purchased the estate from and asked the neighbors about the family that used to live there years ago, if any of them are still alive, but I don't really know what good it would really do, other than for provenance that would probably be absolutely worthless with the type of expertise in this world today.
A few years ago I did send pictures of it to the Klee Foundation and their answer back was that it was not Paul Klee style of painting and he did not paint anything that big while another so-called expert said that everything he did was signed on the front with a letter Y for the year, follow by the date with a number indicating the amount of paintings that he had done for that year. I looked at many of his works in art books that I bought on him, and I say bullshit!  What a bunch of lying MFA's! As I ask myself while thinking at the time, is the art world really this screwed-up and built-up of supposed art expertise os these MFA's, using these false pretenses and giving fraudulent wrongful information to ones who own real masterpieces of different artist?  This was only one of the episodes in the beginning of my artistic endovers, the starting of my own tremendous dislike for these so- called and supposed MFA experts.
If you take time and read some of the letters Vincent van Gogh had sent his brother Theo, you might come to your own conclusion that Vincent and myself feel pretty much the same, when it comes right down to supposed MFA expertise. Some say and think that "Vincent was no genius, (I wonder Why) it is said by the MFA experts he was just at work everyday and had some ideas. He succeeded.  Would another taste be on fashion today we would have another genius at  the top of the Pantheon."   Well,... I say Vincent knew exactly what he was doing, because he kept saying so in his letters, and when another artist reaches his same goals and understanding, then maybe, just maybe there someone might become a great atist and be known as a genius, similar to what Vincent really was.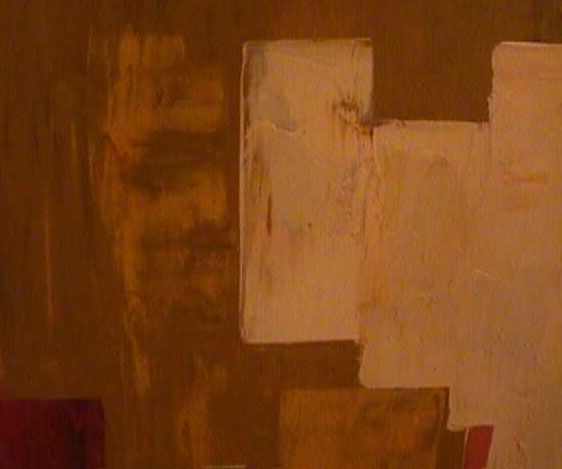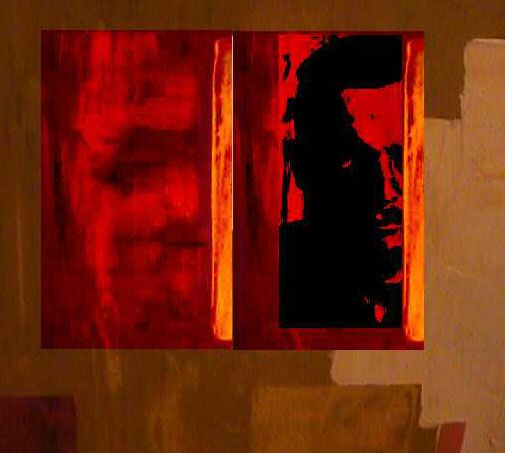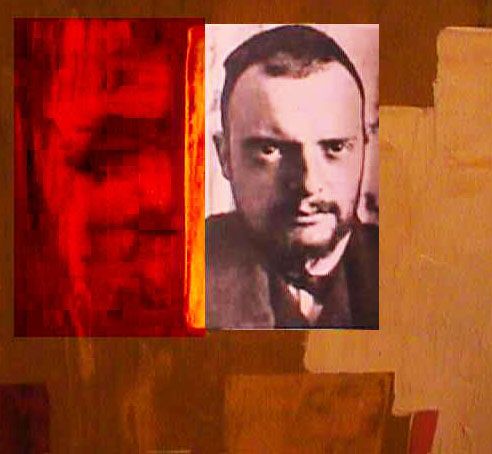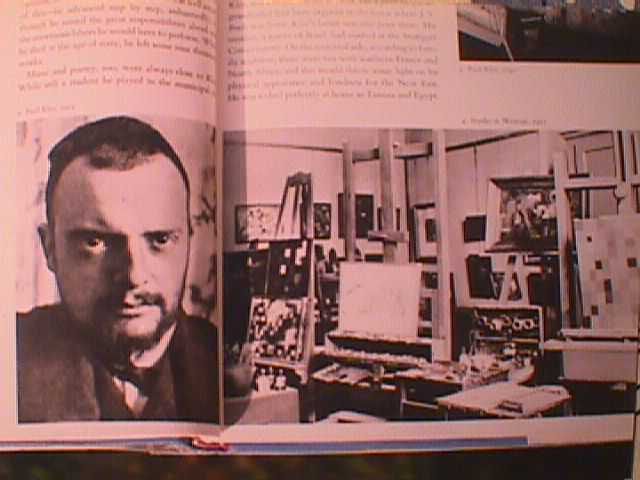 This above seemingly looks to be the subject matter of my own painting that I own above showing his conglomerate of paintings in his art studio.