New Van Gogh Book Claims Different Last Work, New Letter, Change of Address, and More!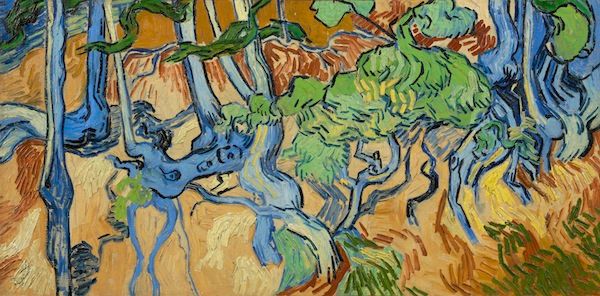 Tomorrow Amsterdam's Van Gogh Museum will publish "Van Gogh: New Findings," the fourth volume in its "Van Gogh Studies" series, which reveals new findings about the Dutch Post-Impressionist, chief among them that "Tree Roots" (1890) may have been his final painting — not the famous "Wheatfield With Crows," as previously believed, and unforgettably portrayed by Kirk Douglas in the 1956 classic "Lust for Life."
In addition to a piece about the disputed dating — by scholars Bert Maes and Louis van Tilborgh — the 10-article book includes a recently discovered letter (seen below) sent by Vincent to his brother Theo van Gogh in the fall of 1872, making it the artist's second-earliest known letter. The correspondence, which was found in an archive in the Netherlands' North Brabant province, will also be published on Vincent van Gogh: The Letters, the online archive of the artist's writings.
Van Gogh completists will be likewise riveted to know that another article from the forthcoming tome, by Teio Meedendorp, reveals that Theo and Vincent lived in a different at Rue Lepic 54 in Paris than previously believed.
The 280-page book will be available tomorrow for €45 ($57). In the meantime, those who fancy themselves fluent in Dutch can try to decipher the newly discovered letter below.
Page one of van Gogh's 26 October 1872 letter to Theo:
What do you know about this! The experts have now came up with another painting that they would like people to believe was Vincent's last work of art before him ending his life. After Vincent shooting himself, the doctors seemed to think he could get better by just patching up the wound and refused to remove the bullet because of what Vincent had said earlier. "If you save me I'll just shoot myself again." They talked it over and came to a conclusion that Vincent hadn't as of yet surrender the gun he had used in shooting himself. With this previous threat to doctor Gachet and his family, they figured if he gets better They'll haft to have him lock up and if he dies,.. well he won't have to shoot himself again, so they decided against trying to take the bullet out of him. Vincent died of internal bleeding two & a half days after the fact.
Video of Vincent's last work of art painted on paper.
And more videos of art to see.
http://blogs.artinfo.com/artintheair/files/2012/06/Brief-1a-2.jpg 
Paste this url above in your browser to see Theo's signature (not Vincent's)  on the second page of this letter the experts say Vincent wrote and sent to his brother Theo. Do you suppose that these experts really know what they are talking about when they speak of Vincent van Gogh? Maybe they need to hire themselves some proof readers before allowing publishing of these articles which include their names. 
New Van Gogh Book Claims Different Last Work, New Letter, Change of Address, and More! 
Just Google this above and it will take you straight to the article.