Samuel van Hoogstraten 1661/1663
"Tobias's Farewell to His Parents" 
Hermitage, St. Petersburg, Russia
I, vanrijngo, so disappointed in the master of fine art supposed expertise, that it literally make me just want to quit and give up what I do.  I know,.. no matter what I have to say, or show you,.... it will not make one damn bit of difference!  But what the hell,.... I'll say it anyway.
The experts might ask this question, only if they could see, could these above pictures actually be of another family group portrait done by another Dutch artist other than Rembrandt, while painting an apparition of Rembrandt himself standing there with his already dead monkey at his own feet? I know myself that this painting actually represents many other different happening of these family members different happening in their lives.  Most would be considered fictitional stories by so-called Rembrandt experts and say they are mostly myths that are concidered by the author to be  facts back in those days.
By the way, this Beautiful painting representing the biblical story of The Departure of Tobias,  has already been taken away of Rembrandt's oeuvre and attributed to Samuel van Hoogstraten. What I've said and showing you should really confuse most MFA expert, of how Rembrandt really painted, and supposedly now knowingly, how he was able to captivate his audiences attention, but not the attention of you know who, the ones who profess to know.
By myself finding this painting of Rembrandt's on this beautiful website mentioned above,... while enhancing it for a closer look,... and after more of my findings, all I can say is this,.... that these donkey eared MFA experts,  which Rembrandt had included in his drawing of "Satire on Art Criticism", are 100% exactly as he had drawn them, concerning their decision of who had done this painting.  I say it was painted in remembrance of the years of Rembrandt's own son Titus,.. and of his marriage to
 Magdalena van Loo, and under took by Rembrandt after his son Titus's death.  No one would have known this story,.... or would even have attempted its painting, except the one and only,..... the one who knew.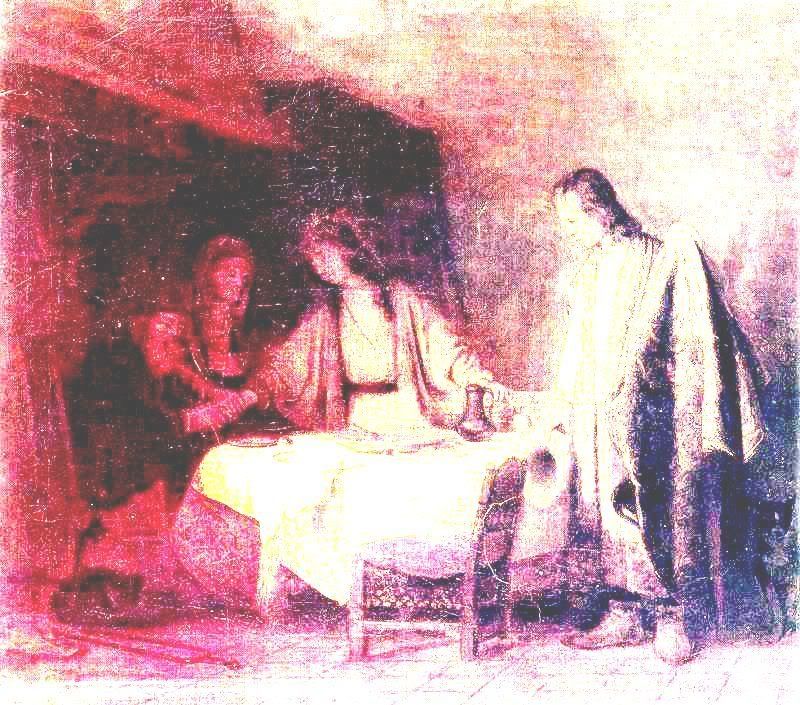 Only Rembrandt I believe could have done such a marvelous job as this in his last year or so of his life,... of painting episodes out of his own life as he was losing a lot of his vision to old age,... telling us the full and exact story, of his own son Titus' life.  I believe Titus is in the process of asking the parents of his new bride to be for her hand in marriage. Rembrandt showing his viewers the true feeling of her parents not really wanting their daughter to marry an artist, a man that they themselves feel will not be able to provide a living for their daughter.
You might say just as his father,... by the name of Rembrandt who wasn't able to provide a good living for his own family, and ousted out of Amsterdam as a bankrupt good for nothing no good artist.  That would be its true hidden meanings as far as the Dutch are concerned.  The double meaning would be of Titus's own departure of his family and loved ones, while the third is of what the MFA experts had come up with themselves,.... only accrediting  the painting to a wrongful  artist.
Now this is a Rembrandt the MFA experts say.  After comparring to the other pictures can any of you see any resemblance of these people in this painting as to being Magdalena, her baby and father?  When Titus died she was pregnant with his child, and according to this picture showing us in the way it was painted leaves us assuming that her father, the way he is holding the child, figures in his own mind that this is just another mouth to feed.