Poem by vanrijngo

"The Starry Night"
As I look to the sky in the dead of night,
visualizing the sun,.. that's on the other side,
wondering,... will I see it many more times.

As the moon and stars light up the sky,
thin clouds laying over the hills.
I see myself,... lying,... dying,
reaching,... reaching for the un-reachable,
where the prosperous seem to alway build.

There is a darkness to most everything,
one struggles to stay in the light,
it is inevitable,... that I shoot myself,
to bring the attention of the world.

Will the doctors struggle to keep me alive,
or will the grim reaper possibly take me away?
The church, the means, my body,
all wait in silence,
of the starry night.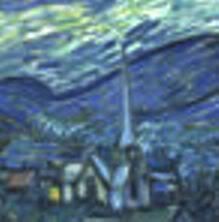 Very interesting location to where the Doctors are looking.  How do you spell bullet?


One would ask oneself in looking at the "Starry Night" painting,.... do those lines in darker blue colors,... above those two tity looking hills, say subconsciously or consciously,... eat the Buffet,... or eat the bullet?  If this happens to be true,... and was one of Vincent's techniques he used in his works of art,... subconsciously or not,.. then we can all assume that he had some kind of a fascination in shooting himself,.... to bring attention by the worlds lovers of art,..... to his own works of art.
Yep,... it looks like his work.  Do you suppose he was trying to tell us a storm is coming?