Reading about Chaim Soutine going to a slaughterhouse and dragging a side of beef back to his studio at La Ruche in Paris so he could spent several odorific days painting its pageant of festering colours made me hungry for more, so I called up Rembrandt to order a whole "Slaughtered Ox" and he recommended a few other butchers with brushes.

If you missed the reasoning behind Russian expressionist Soutine's blood-soaked creativity, so did I.  Pictured is the result, "Carcass of Beef", which fetched a fatty £7.8 million at auction earlier this year.
Well, just have yourselves a good look at this very large original oil painting and a print of a Soutine I had found at an estate sale.  It happened on the last day and only a couple of hours to go before the sale was to end.  I could not believe my eyes when I seen these works of art still leaning up against the walls of the three car garage of the house where most the items were that were still for sale.  Most all the house hold furniture and more expensive items had already sold of course, but a lot of items still remained for sale in the garage and back rooms off the garage.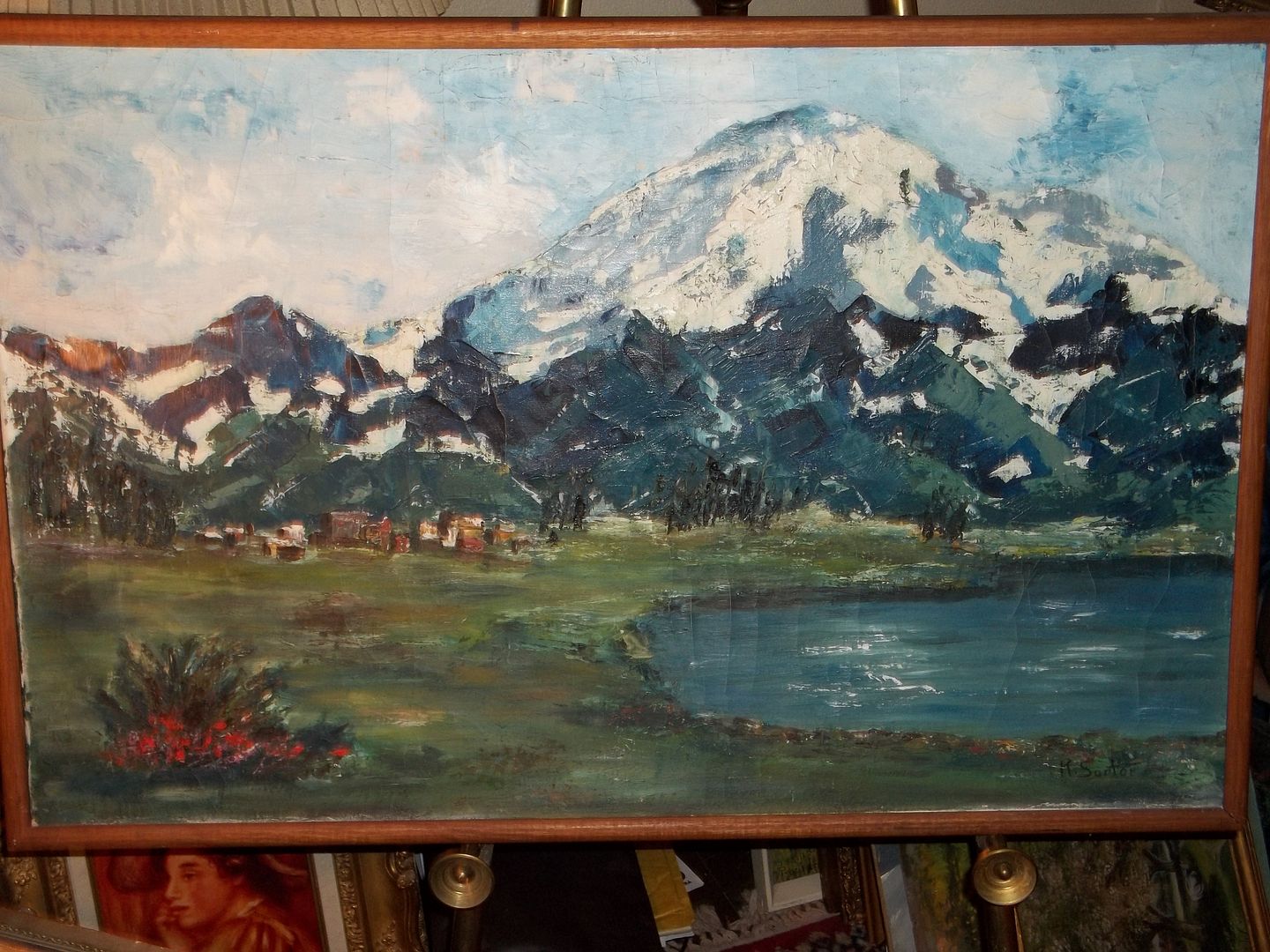 If you look really close on the left about half way up you might picture in your mind the few trees that were around that French settlement,  you might even see that pathway coming between them swinging to the right heading into the settlement.  In looking up above the trees you can see how my camera in taking this picture somehow managed to get a little different color to the hills resembling his  colors and background to his painting of Rembrandt's  "Slaughtered Ox".
Titled  "The Big Tree"  Soutine  on a sticker on the back.
I read where Soutine would attempt to destroy and mutilate what ever he could find of the Ceret landscapes from the body of his work later in his life. He encouraged his friends and art collectors to help him locate these previous canvases so he could destroy them. Although he was always obsessive about editing and reworking canvases, he was particularly ruthless with works completed prior to 1923. Since he left no journals and wrote few letters, it is not clear why he wanted to expunge his remarkable landscapes but stories abound of Soutine attacking these paintings with scissors, knife or razor blade, ripping out sections, dissecting and transplanting, even shredding the canvas on the frame in a paroxysm of rage.
As one might be able to tell, these trees are the same trees as in this oil painting.
Shows you how the road and path for travelers enters this little French settlement
It doesn't take a magical eye to tell that these two works of art were done by the same hand and creating the same hidden images in these works of art by the means of the artist's own idiosyncrasies.
  This estate sale on Highland View Dr. overlooking the greater Boise valley pretty close to the top of the drive had one marvelous view of the city. The estate sale  of married couple who  both were deceased.  I  also bought a van gogh print of his Irises.  It was called "A Day in the Country"  Impressionism and the French Landscape from the Los  Angeles  County Museum of Art, dated June 28 - September 16, 1984.  The house of the estate was on the market and they were asking 747,000 at a reduced price from the original asking price.  I cannot believe I walked away with their best price item of their sale, half price of the twenty dollars price tags that were on all three of them.